'A young boy finds his life turned upside down by a tragic accident. Desperate to return to happier days, six-year-old Hugo draws up plans for a time machine. But only his neighbour - a child-eating recluse, according to the boy next door - has the parts Hugo needs to complete the contraption. Illustrated in evocative, intimate pencils, Wolf is a captivating and poignant exploration of family, grief and that blend of the everyday and the fantastical that is childhood. It's also a beautiful object. Feast your eyes on this.' @SelfMadeHero

Reviews
Times Literary Supplement, Tom Tivnan
'Wolf is wildly inventive, poignant and elegiac.'

Front Row Reviews
'Ball has achieved a rare thing. A visual poem. Its softness, hides its richness.
This is its real skill. One that I am still in honesty, reeling from.'

A Place to Hang Your Cape
' 'Wolf's Enigmatic Charm is Intoxicating.'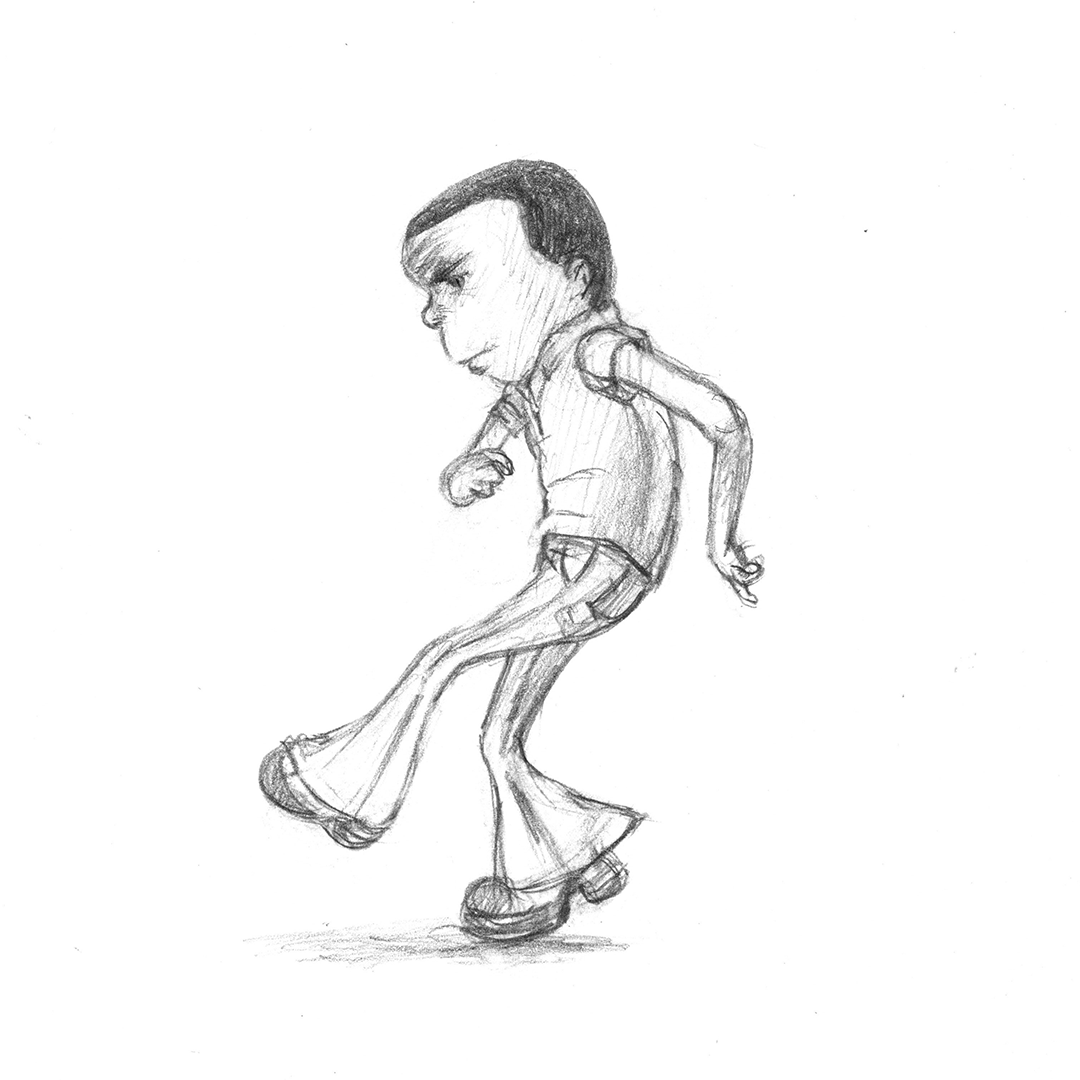 Wolf french Edition 2020, Presque Lune
WOLF A LITTLE OF THE REAL STORY
'Sleep and Death, awful gods… the former of them roams peacefully over the earth and is kindly to men but the other has a heart of iron, whomsoever of men he has once seized he holds fast and he is hateful even to their deathless gods.' Hesiod on Thanatos
Wolf has been waiting a number of years. It's the story of father loss. A fictional version…..A once removed story.
My father died suddenly when I was 6. He was 36. My Mum was 37, my brothers… 8 and 11. He had a heart attack in the night and died in the ambulance on the way to the hospital.
Gone.
A few years ago I was talking about him to a friend and whenever I went to say the word Dad, the word Daddy came out instead. The little child in me took over. I don't even remember him very well but I always missed him ….or missed the idea of him.
A pocket of memories
:
His knees, his hands playing his outsized guitar. He was a big tall man. I remember him smoking a pipe. He had 2. One was carved into the face of a smiling Chinese man and the other a skull in the bowl of the pipe. He may have whittled these himself. I remember him tucking me into bed, stretching the sheets so tightly my head would pop out like a peach. I couldn't move an inch. Then he'd kiss me on the forehead and go.
I remember being with him at Granma Devon's, sitting on a yellow candlewick bedspread whilst he unpacked the suitcase.
I remember him running down the stairs when aged 5 I'd decided to make Mum and Dad a tray of tea and tripped over carrying the tray up the stairs. Tea pot and cups everywhere and he came running.
I remember him driving me to hospital when I fell off a swinging gate and hit my head on the ground. I went blind for an hour. When my vision returned the first thing I could see was the back of his head, driving me to hospital in his rover..
He made stuff..a table tennis table, a large wendy house. All made from the heaviest wood. He made my brothers and I a spying gadget. A hand held wooden box with mirrors at each end so you could see round corners.
One Summer he spent weeks building a large catamaran which we all took down to the beach. We waded in the water with it and pushed it out to sea. I remember standing in the shallows thinking I was helping, guiding it out with my small hand. Then watching it sink in the water right to the bottom. Too heavy…
He sang folk songs with Mum. We have recordings. He had a gentle voice and liked to collect songs in a note book. Each song written beautifully in inky script and guitar notation added on the side.
He was a handsome man and well liked. He had a phd in rubber adhesion, beans were 'fart pills' ,his favourite meal was a fry up and he used to split his shoes down the middle. He didn't like having curly hair so he'd wet it and put his tweed flat cap on until it dried straight. He frequently wore black shades and if he wasn't smoking a pipe, he was probably smoking a cigarette.
And when he died Mum had to be sedated for 2 weeks.
After that we didn't talk about Dad a lot.
He became the elephant in the room.
And everyone got on with life.
My Mum died 3 years ago at 81 which has brought its own necessary pain. I miss her very much.The loss leaks down my pencil. She was a bloody good Mum. And we were good friends. She was enormously kind but like most daughters I could find her enormously annoying. A few years ago she left 2 fridge magnets behind after a visit:
One said 'God couldn't be everywhere so he made Granma's.' The 2nd …'When life gives you lemons grab tequila and salt.'
That kind of sums up my Mum…a hot light, warm and kind, funny, stoical, loving. She found joy in the ordinary and the extraordinary and was outrageously confident. She could be wise then infuriating in the same sentance but was always loving.
3 years ago we sat chatting on her bed littered with books and newspapers.. a pot of tea sat by the bed side. We spent hours chatting in Mum's bed when I visited…and when I was a child. Our conversations like babbling brooks, meandering without end… One minute deep and important, the next like postage stamps. nothing at all…lovely.
Suddenly the river of words brought us to Dad's death.
Just like that, abruptly she was there again enveloped in her memories of how she felt when he died. Staring out the window…. reliving it.
'I would have thrown you all into the sea', she said suddenley 'If it would have brought him back.'
As a statement it had mythical proportions. Shocking words that described her devastation so well.
If this life had been a fairy tale would us 3 would have been dropped into the sea? What next I wonder? Would Dad have stepped out of the waves unscathed, heart healed. Perhaps fate and magic would have conjured us out of the sea as well…. sailing in a silver shell. And then a family once more.
Instead Mum grieved then put grief away and became Mum and Dad rolled into one.
This story is about a family living with grief. About people with a hole inside who learn to step around it.
About children growing up with loss. A blood line dammed up.
This fairy tale is emotion distilled. The real meaning caught somewhere between the words. Hugo is the mythical hero. A small knight thrown out of paradise into a labyrinth of sadness who stubbornly says 'No! I will not accept this DEATH thing!' And rather than follow death's laws he decides to bring Dad back. He is Orpheus in the Underworld.
And for Hugo to succeed in beating death there would need to be some force of equal measure and mystery to Death itself. A force such as the Wolf man. A force of unspeakable horror….a monster, a minotaur, a magical being, a suspected child murderer, a Wolf Man.
With his help Hugo could overcome the laws of time.
Will he destroy or be destroyed? Will he win the ultimate prize if he can face his fears?
I used to feel we were all robbed when Dad died and he was robbed of his life…I felt angry and bereft for many years I think. But he lived, he was here. We were lucky to have him when we did.
Joanna Macy puts it well I think.
'It's Ok for our hearts to be broken over the world. What else is a heart for? There's a great intelligence there'
So I'm going to close with some more Joanna Macy wisdom….
'So I'm looking at my hand now as we talk. It's got a lot of wrinkles because I'm 81 years old, but it's linked to hands like this back through the ages. This hand is directly linked to hands that learned to reach and grasp and climb and push up on dry land and weave reeds into baskets. It has a fantastic history. Every particle and every atom in this hand goes back to the beginning of space- time. We're part of that story…..This moment you're alive.'
My Mum would have nodded in agreement at that.